We wrote this blogpost a couple years ago and have added a few more children's books that have come recommended by trusted sources within the ART community.  This recommended list of children's books is meant for a child born through surrogacy or siblings of children born through surrogacy. These books provide the answers to many of children's "why" questions in a loving and educational way.
Sophia's Broken Crayons: A Story of Surrogacy from a Young Child's Perspective
As Sophia learns about sharing and helping out friends in need, your child can learn about why moms and dads choose surrogates to help grow their families and why surrogates choose to help other families that way. Sophia's story is about the shared hearts of surrogate families. Sometimes the simplest answer is the best. "A beautiful gift was given to make the sadness go away and to make the world a happier place. All it took was a heart that wanted to share happiness." About the Author: Crystal Falk is a children's book author, product designer and mother of two beautiful children. She has worked and is working on many projects and products for the surrogacy community and for pregnant women in general. In 2012, she decided to become a surrogate for a family and had her first surrobaby in March of 2013. In 2014, she started her business Birth, Bump and Beyond, LLC. When she is not working on ideas for new products, she is chasing her 4 and 2 year olds around the house and spending time with her fiancé. You can visit her at www.BirthBumpandBeyond.com/ Notes from the Author: Sophia's Broken Crayons was created to help address questions that children may ask during a surrogacy. This book addresses questions my own 3 year old daughter asked during my first surrogacy journey. It was during the surrogacy that the idea, and ultimately the book, was born. Notes from Surrogacy Together: The mission of Surrogacy Together is to share inspiring stories about Surrogacy with the world. Sophia's Broken Crayons is an inspiring example of how at even a young age one can understand the power of giving to others.
---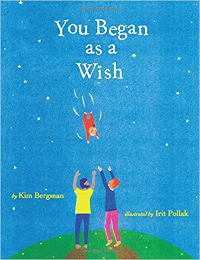 You Began as a Wish
Children conceived using third-party assisted reproduction often have questions and want to know where they came from. As parents we sometimes forget that telling our kids the truth right from the start is always best! This wonderful children's book written by Dr. Kim Bergman, author of Your Future Family: The Essential Guide to Assisted Reproduction, and beautifully illustrated by Irit Pollack, answers those questions in simple, easy to understand language. Use this book to help your children understand all the parts that came together to make them who they are, beginning with a wish!
---
The Pea That Was Me (An Egg Donation Story)
The best way to start talking to kids about donors in when they are young, and the easiest way to being the discussion is by reading The Pea That is Me to them. Kids love the whimsical "Pea People" in the story and will ask to read the story over and over again.
Written by a well-known psychotherapist and specialist in reproductive issues who uses age appropriate language and simple but clear concepts about the three things it takes to make a baby (eggs, sperm and a tummy to grow in), kids learn that a "very kind lady" helped to bring them into their loving family.
Why wait to start talking to your child? Start reading The Pea That Was Me to them today!
---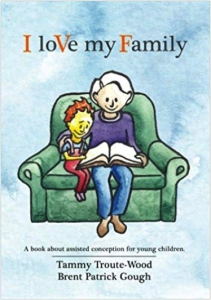 Written by Tammy Troute-Wood, Illustrated by Brent Patrick Gough
Millions of children have been born worldwide through the use of assisted conception. Experts advocate the benefits of disclosure to children about their reproductive beginning at developmentally appropriate times, in age-appropriate ways (Canadian Fertility and Andrology Society, American Infertility Association, Donor Conception Network). I loVe my Family is a carefully crafted tool to assist families to discuss assisted conception (including IVF, egg donor, sperm donor, and surrogacy) with children 3 to 5 years old. The book uses diverse pictures, inclusive language and accurate anatomy to provide a tool to explain all manners of assisted conception for all families. The book offers parent's information on how to prepare, set the stage and answer questions. The colouring pages provide an opportunity to engage in conversation about values including love, hope and family. A glossary provides alternative words to use for those who prefer plain language rather than medical terms. The reproductive puzzle allows all families to piece together and celebrate their own family story. [1]
---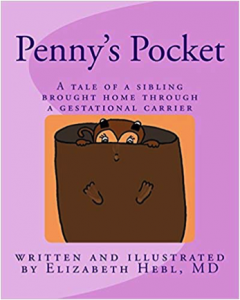 Written by Elizabeth K Hebl MD
A tale of a family of o'possums (a small North American marsupial) who use a gestational surrogate to bring home their second child. This is a children's book to help understand infertility and gestational surrogacy. It is intended for children under the age of 8.
---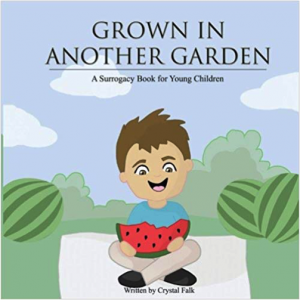 Written by Crystal Falk
Grown in Another Gardenintroduces young children, ages 2 years old to 8 years old, to surrogacy. Follow the story of Mikey and his family as he learns about the unique way he was born into a loving family – through the kindness of a surrogate. Join with him as he discovers that "sometimes the sweetest and most beautiful creations are grown in another garden." Mikey's story helps to explain why some families choose surrogates to help grow their families and why surrogates choose to help other families that way. 1
---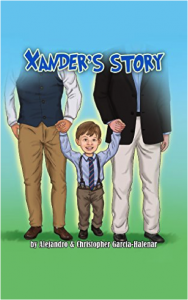 Written by Christopher Garcia-Halenar and Alejandro Garcia-Halenar
Xander's Story is a wonderfully vibrant picture book which guides children through a baseline understanding of surrogacy. Xander's journey begins in the initial stage of him being just a dream to the final stage of when he becomes a gift. Xander, his little brother Max, and his two Dads, Alex and Chris Garcia-Halenar live in South Florida. Both Alex and Chris always wanted a family and began their surrogacy journey soon after falling in love. Believing that every child's story is unique and should be celebrated, they wrote Xander's Story so their son will always know how special he is. 1
---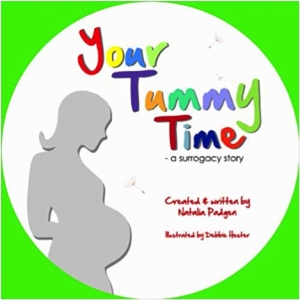 Written by Natalia Padgen, Illustrated by Debbie Hester
Your Tummy Time – a surrogacy story will nurture your bond with your baby while you teach and share a healthy approach to life after surrogacy. This book allows you to handwrite both your child's and surrogate's name within the story and provides space to include family photos. This special book invites your child to immerse themselves in the story… their story. Creator and writer, Natalia Padgen, created this book while her surrogate was pregnant with her baby to promote positive memories and experiences, and avoid any awkward 'finding out' moment later in life. Natalia conducted research and consulted with an expert Psychologist and Family Therapist to ensure that content and language is relevant and leads to encouraging experiences. The book has been designed to become part of family history, rather than just a story book.1
---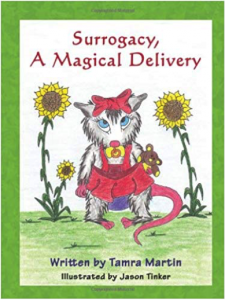 Written by Tamra Martin, illustrations by Jason Tinker
A comforting and tender tale of an opossum family longing for a baby of their own. When they learn that they are unable to have a baby the conventional way, they embark on a mission to seek out other alternatives. As the opossum family continues on their quest, they persevere through many obstacles to reach their goal. Beautifully and poignantly written, this book is an ideal way to introduce the concept of the surrogacy process as a loving and caring act. This increasingly pertinent subject matter is presented in a unique, easy to understand format, and teaches a gentle lesson about the importance and value of a child brought into the world through this means. 1
---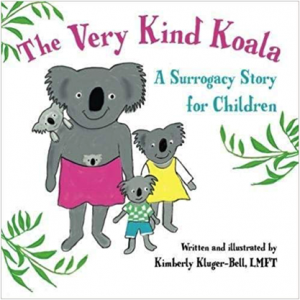 Written by Kimberly Kluger-Bell
The Very Kind Koalais a charming picture book for young children which provides an introduction to surrogacy through the simple story of a koala bear and her husband who needed the help of a very kind koala to carry their baby in her pouch. Parents can begin reading this story to children as young as 3 years of age to begin the dialog about their own helpful surrogate. 1
---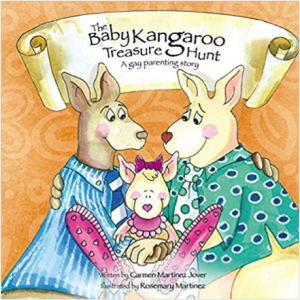 Written by Carmen Martinez Jover, Illustrated by Rosemary Martinez
A sweet children's story of how two kangaroos: Jack and Sam, a gay couple, have their own baby by means of an egg donor and surrogacy. Using kangaroos in the story enables children to easily understand the methods related to their conception in a simple and loving way. 1
---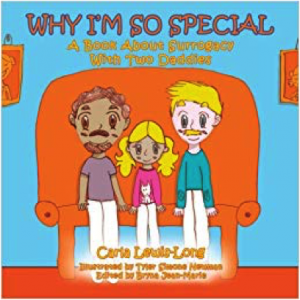 Written by Carla Lewis-Long
Why I'm So Special, A Book About Surrogacy With Two Daddies, tackles a very difficult, complicated subject in a sweet, whimsical way. It is a lighthearted picture book on surrogacy with two daddies. The book is a story that all parents who used a surrogate may share with their young children to let them know just how special they are. This story is ultimately about hope, perseverance, and lots of love. 1
---
[1]All book synopses have been provided by www.amazon.com.  Amazon links to purchase each book selection are included for reference.