Affordable Care Act Policy Placement
Guiding you through the entire process of placing an ACA policy for your Gestational Carrier as you begin your journey. Your Client Success Advisor will initiate a phone consultation to understand your individual needs and then research ACA policy options that best fit. After you make a plan selection, your Client Success team will guide and support the Gestational Carrier through the process of applying for coverage and ensure that the policy is in place.
ACA Policy Placement
Guiding you through the entire process of finding, vetting, and placing an Affordable Care Act (ACA) policy for your Gestational Carrier, our knowledgeable and dedicated team ensures that you are fully informed about all policy options and that the application process is streamlined.
ACA Premium Bill Monitoring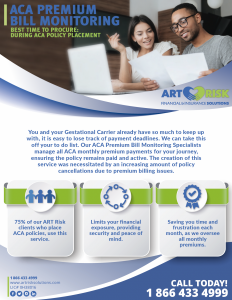 You and your Gestational Carrier already have so much to keep up with, it is easy to lose track of payment deadlines. We can take this off your to do list. Our ACA Premium Bill Monitoring Specialists manage all ACA monthly premium payments for your journey, ensuring the policy remains paid and active. The creation of this service was necessitated by an increasing amount of policy cancellations due to premium billing issues.
Journey Claims Management
We take the burden off of you to solve insurance and provider issues that can arise for maternity and/or newborn claims. Often, correcting errors months after bills and claims are processed will only delay financial completion of the journey. With Claims Management in place, you have the ART Risk team vetting all claims to ensure there is no unnecessary overpayment for medical care.
Since the 2013 inception of the landmark Patient Protection and Affordable Care Act (PPACA), ART Risk Solutions has placed over 10,000 Gestational Carriers on Surrogate friendly insurance policies. At ART Risk, we stand behind every policy that we place and service we provide while being beside you, our valued clients, throughout the entirety of your journey.
75% of our clients save time and money by utilizing our ACA Policy Placement, ACA Premium Bill Monitoring, and Claims Management Services.
With managing thousands of cases, our Client Success Specialists have seen maternity claims range from $18K-$750K for one journey. Often insurance companies do not bill properly especially when there are two policies and Coordination of Benefits is present. Clients find our Claims Management services extremely valuable in saving time and financial resources. Over the course of a year, clients have saved just shy of 1.5M with ART Risk Solutions' Claims Management services.